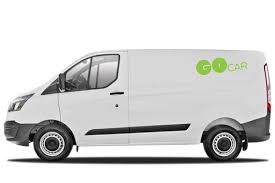 Have your ever thought how GoCar can help you move into self storage?
When considering expanding your storage options for home or for the office, finding the right place can be only the beginning of the journey.
Having the right vehicle to transport your goods is vital for an easy transition, as well as for accessing the storage when needed. Most often, you can easily transport small goods using your own car, but when a slightly larger transport option is required, it can become a bit of a hassle with not so many easy options readily available.
GoCar Services Are Now Available At Elephant
After years of experience listening and adapting to client's requests, Elephant Self Storage decided to take action and find a solution for those without a car or in need of alternative transport to facilitate the process of moving into self storage.
This is Elephant Self Storage is now a collection point and drop-off location for GoCar in County Dublin.
How GoCar Can Help You Move Into Self Storage
With GoCar, you can rent a vehicle to facilitate the need of temporary storage, and pay only for the hours you've used it for. It's easy and simple: you collect it, use it, and pay only for what you've used, all at very affordable rates.
This allows you to rent cars for as little as half an hour, using the GoCar booking system to reserve the vehicle and in-car technology to unlock the car and drive.
GoCar has over 650 cars available across Ireland, and with Elephant Self Storage onsite facilities, this means hassle free pick-ups and drop-offs when you use GoCar during a moving job.
The only thing to consider in this case is whether the vehicle is large enough to carry your belongings, as everything else is made easy for you.
How It Works
Once you're signed up and your driving license has been verified, all you have to do is book the car you want for the time you need.
Unlock your GoCar
When it's time for your trip, arrive at Elephant Self Storage collection point, proceed to the car and unlock it using the GoCar app or an RFID smart card like a Leap card.
GRAB the keys
The keys are waiting for you in the glovebox of the car. They are attached to a keypad, where you will enter your personal pin code and take the keys.
Drive
Drive the car as normal. If you're stopping during the trip, just take the keys with you. Bonus: parking in Dublin City Council pay & display spots is completely free.