Elephant Self Storage Moving Tips & Tricks
Throw away or donate anything you don't need and won't be bringing to your new home.
Contact all utility suppliers; Get final metre readings and pay any outstanding bills.
Organise a babysitter for younger children on moving day (a petsitter might be a good idea too)
Organise removals and storage well in advance, you'll be thankful when the day comes
Clean your white goods and drain water pipes before moving.
Use expert movers for special items such as large instruments.
Don't fully close the doors on white goods – this prevents them getting smelly.
Keep all screws of dismantled furniture in a Ziploc bag and tape to a part of the furniture.
Change your address before you move so post doesn't arrive at your old address.
Keep cleaning supplies in a separate box.
Try to pack each box to the top. Otherwise they may collapse on top of each other.
Protect fragile items with tissue paper or bubble wrap.
Label all your boxes, include which room it came from
Make the bed when you get to your new house – it will be ready for you to fall into after a long day of moving and unpacking.
Elephant Self Storage Packing Tips & Tricks
Pack from the top down – start with the attic then the bedrooms and finally the ground floor
Sort as you go. Have a keep, donate and throw away box.
Don't overload boxes – they will be very difficult to carry!
Label boxes so you know which room they came from and what is in them
Wrap up! Use tissue paper or bubble wrap for all your fragiles and clearly label the box with fragile tape or stickers
Keep important documents together so they don't get mixed up.
Have a variety of sizes of boxes. Large boxes are great for duvets and pillows, medium boxes for toys and kitchen appliances and small boxes for your cups and plates and any delicate or heavy items.
Pack plates vertically (on their sides) and stuff lots of tissue paper in between. The more paper you use, the more your plates are protected
Plan together – get the whole family involved. Give everyone a job and plan a timeline
Colour coordinate – give each room a designated colour and any boxes for that room are labelled with that colour.
Don't leave everything until the last minute – book your storage and removals well in advance and start packing as soon as you can.
Find a Petsitter – You don't want your furry friend jumping in and out of boxes while you're trying to pack them!
When packing your storeroom put boxes you want to access at the front.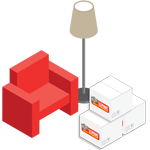 Safe Dublin storage for a box, or your home.
Flexible storage spaces for all business sizes.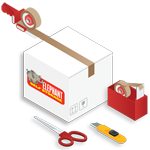 Storage boxes and packing supplies delivered to you.
Free Removals | Pre Pay and save up to 15%